The Beatles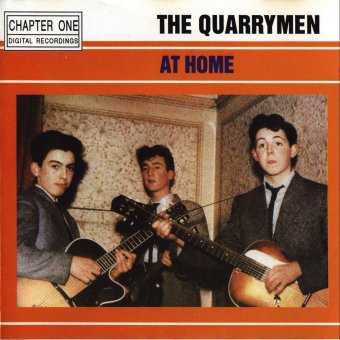 The early years as the Quarrymen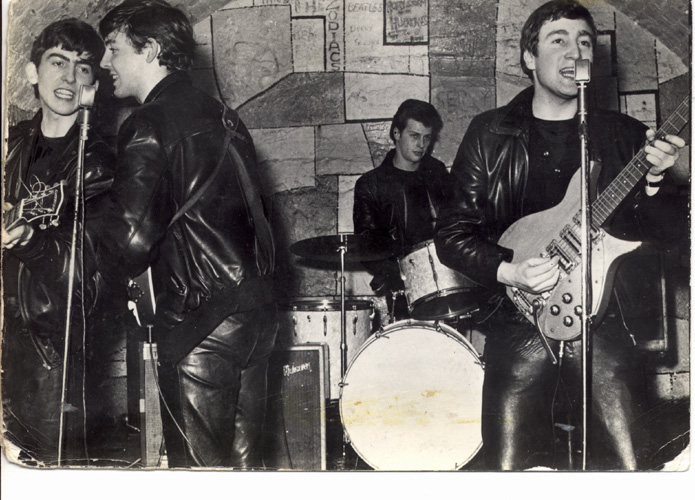 The Beatles 1961 (pre-Ringo)
Birthdays:
Ringo -- July 7, 1940
John -- October 9, 1940
Paul -- June 18, 1942
George -- February 25, 1943
MILESTONES:
October 1957
John Lennon asks his friend, Paul McCartney, to join his band, The Quarrymen.
John will re-name the band the Beatles. He says the name came to him in a dream in which "a man on a flaming pie said 'From this day on you are Beatles with an A.'"
August 1960
The Beatles play in Hamburg, Germany. Here, they begin to gel as a group. In Hamburg they cut loose and gain a reputation as the wildest band around. John Lennon performs with a toilet seat hung around his neck.
January 1962
Brian Epstein arranges an audition with Dick Rowe of Decca records. Rowe turns them down, advising Epstein, "Go back to Liverpool, Mr. Epstein. Groups with guitars are out."
August 1962
Ringo (Richard Starkey) joins the Beatles. Pete Best was the group's original drummer when they signed with EMI. However, the others felt he was not the right drummer for the band. George said of the situation, "It was either keep the old drummer and keep playing at clubs or get a good drummer and make records." Epstein is forced to fire Best.
February 1963
The Beatles record their first album, Please Please, Me, at Abbey Road Studios.
George Martin says of the first recording sessions, "Please Please, Me was the first time they showed they could write a great song. I wasn't convinced they could do it again. From Me to You changed my mind. It was a super song."
November 1963
The Royal Variety Command Performance: a nervous John Lennon tells the audience, "On the next number would those in the cheap seats clap their hands? The rest of you (the Queen and other Royals) …rattle your jewelry."
February 1964
The Beatles' appearance on The Ed Sullivan Show causes a sensation. Beatlemania explodes across North America.
Ed Sullivan on the Beatles: "I have never seen any scene to compare with the bedlam that was occasioned with their debut. It was indescribable. "
In New York, Bob Dylan introduces them to marijuana at their hotel after a concert. While smoking up, Dylan asks them, "Don't you guys sing 'I get high, I get high' in that song?" John corrects him, "That was 'I can 't hide.'"
June 1965
Yesterday is recorded at Abbey Road Studios. It will become the most recorded pop song ever with more than 400 artists covering the song.
Paul McCartney on Yesterday: "I had a piano at my bedside, and I must have dreamed it, because I tumbled out of bed and put my hands on the piano keys, and I had the tune in my head. It was just all there, a complete thing."
August 1965
The Beatles meet The King – Elvis. They hold a jam session that Paul says was taped. No copy of the tape has ever surfaced.
1966
John Lennon sparks controversy when he says the Beatles are more popular than Jesus.
August 1966
The Beatles play their last ever tour date -- in San Francisco at Candlestick Park
The Sgt Peppers Clues to Paul's Death

To www.thebeatles.com

To Paul's Official Site <http://www.mplcommunications.com/mccartney/>

Click here to view the The BEATLES Top 50 web pages

To Paul's Web Page

Click here to return to the HOME Page